Don't limit yourself.  Many people limit themselves to what they think they can do.  You can go as far as your mind lets you.  What you believe, remember, you can achieve.  ~Mary Kay Ash
We Can Help You Today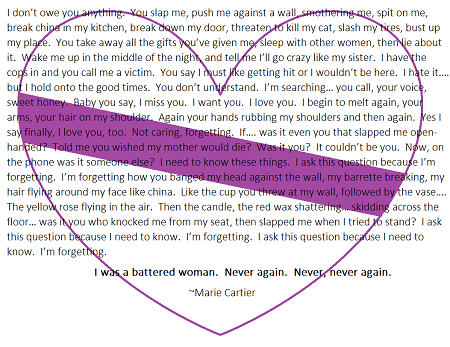 Does Your Partner…
Make you account for every moment spent away from him/her?
Frequently ridicule or insult you?
Become jealous if you talk to other people or go places without him/her?
Threaten to hurt him/herself if you break up with him/her?
Use drugs/alcohol as an excuse for his/her violent behavior?
Destroy your property?
Hit, slap, punch, shove, or kick you?
Does Your Partner's Behavior Make You…
Feel like you have no right to say no?
Stop seeing or calling our friends and/or family?
Feel responsible for what he/she does?
Afraid?
The Choices for Women Program provides information and referrals regarding domestic violence, supportive counseling and support groups for women who are being abused.  Calls are free and confidential and services are low-cost and on a sliding scale.
CALL 908-276-0590 x19  and ask for Elaine
Remember
No one deserves to be abused, physically or emotionally.
Domestic Violence is a crime.  Call the police if you are in immediate danger.
Domestic Violence cuts across all racial, ethnic and socio-economic boundaries.  It occurs in gay and lesbian relationships.  It effects older people and the disabled.
As well as reporting Domestic Violence to the police, it ca be helpful to document it in other ways, such as recording dates and occurrences in a journal, taking photographs of injuries/damage caused by abuse and by reporting the abuse to medical professionals.
Prevalence of Domestic Violence:
One in every four women will experience domestic violence in her lifetime.
85% of Domestic Violence victims are women.
Historically, females have been most often victimized by someone they knew.
An estimated 1.3 million women are victims of physical assault by an intimate partner each year.
Effect on Children:
Witnessing violence between one's parents or caretakers is the strongest risk factor of transmitting violent behavior from one generation to the next.
Boys who witness Domestic Violence are twice as likely to abuse their own partners and children when they become adults.
30% to 60% of perpetrators of intimate partner violence also abuse children in the household.
HOPE IS A PHONE CALL AWAY!  908-276-0590   ext 19